WASTE MANAGEMENT
To report a missed collection, please contact the board and provide your community and civic address or description of your property.
Contact Info:
255 Majors Path, Suite 3
St. John's, NL A1A 0L5
Tel: 709-579-7960
Fax: 709-579-5392
Email: 
info@ersbnl.ca
---
---
WASTE COLLECTION GUIDELINES
Bags must be placed at the curb by 7 a.m., not farther than 15 metres from the edge of the pavement
Garbage and recycling bags must be regular size (66 cm x 82.5 cm)
Each bag must not weigh more than 20 kg/45 lbs
Regular garbage can be placed in any solid colour garbage bag
A transparent blue bag must only be used for recyclable materials
Bundled materials must be less than 1.5 metres (4 feet) in length
Sharp objects (i.e. broken glass, needles, knives) must be in a puncture-proof container and clearly marked "broken glass" or "sharps"
Do not leave any items not intended for waste collection near the garbage box or collection area or they may be collected as weekly or bulk waste
Check your collection calendar for local bag limits
Waste must be accessible and boxes free of snow / debris
Not accepted for curbside collection:
Bulk waste
Household hazardous waste
Fish nets and rope
Containers of liquid
REJECTED WASTE
Waste that does not meet these requirements may be left behind. Check for an orange tag indicating the reason waste was not collected. Once remedied, it will be removed on the following collection day.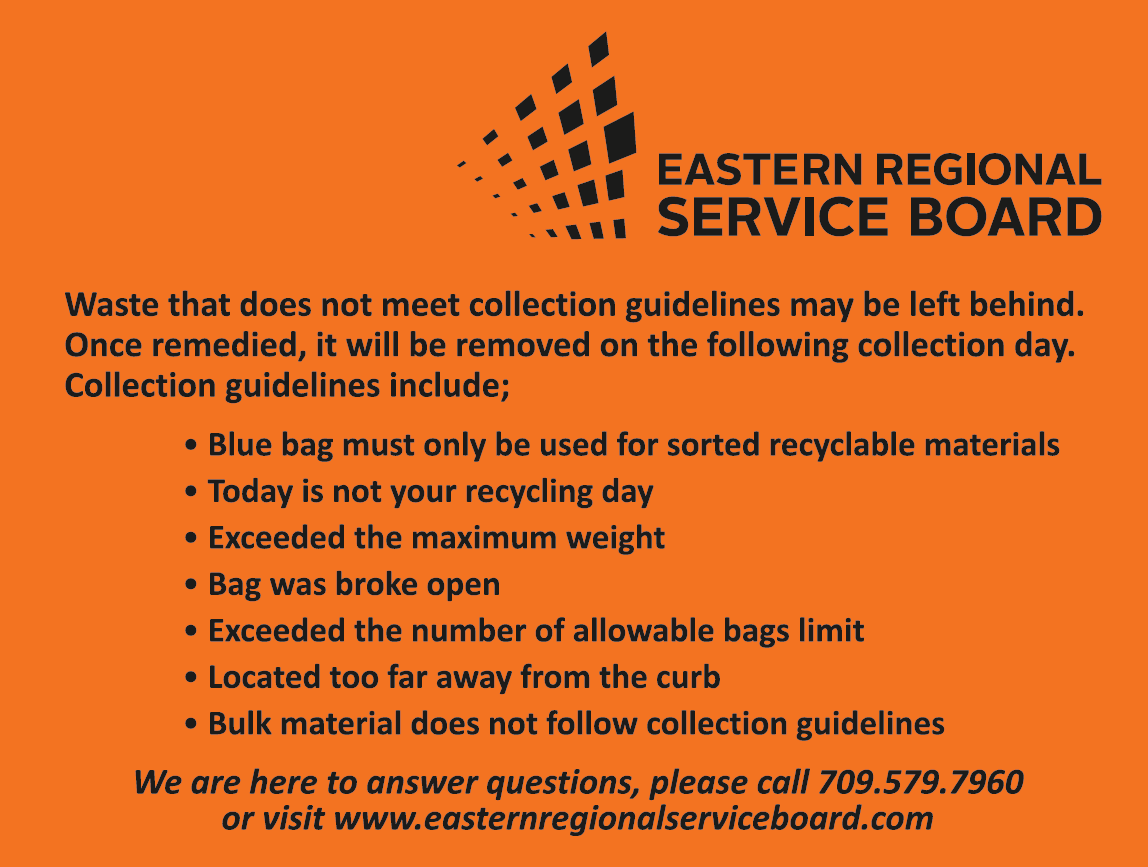 RECYLING
SORT. RECYCLE. REPEAT.
Sorting your waste into the three waste streams is as easy as 1, 2, 3!
Place rinsed mixed containers in a transparent blue bag.
Place paper products in a separate transparent blue bag.
Place both bags at the curb or roadside with your black bag garbage on your scheduled bi-weekly collection day.
---
Don't Forget to Reduce and Reuse
With a little more thought, we can all take small steps to change our habits and reduce the amount of waste that ends up in our landfills. By reducing first, we avoid making waste in the first place. Reusing allows us to divert waste from the landfill by giving items a new life—or a new home.
ACCEPTED MIXED CONTAINERS
METAL CONTAINERS
Aluminum cans
Disposable foil containers
Steel/tin cans and lids
Aluminum trays
PAPER CONTAINERS
Milk cartons
Gable top cartons
Tetra boxes
Juice cartons
PLASTIC CONTAINERS
Beverage containers
Tubs and lids
Food containers and bottles
Flower pots
Household cleaner bottles
Toiletry bottles
Trays and clamshells
ACCEPTED PAPER PRODUCTS
CARDBOARD
Corrugated boxes
Packaging materials
BOXBOARD
Drink and coffee trays
Egg cartons
Food boxes
Gift boxes
Paper towel rolls
Shoe boxes
Toilet paper rolls
MIXED PAPER
Books (hard covers removed)
Computer paper
Construction paper
Envelopes
Exercise books
Glossy paper
Loose leaf
Magazines and catalogues
Newspapers and flyers
Paper bags
Phone books
Sticky notes
---
BLACK BAG IT!
PLASTIC
Bags
Bottle caps
Bubble envelopes
Candy and granola bar wrappers
CD and DVDs and cases
Chip and snack bags
Cutlery
Individual condiment packages
Plastic wrap and baggies
Straws
PAPER
Coffee cups and take-out drink containers
Gift bags and wrapping paper
Paper napkins
Paper towels
Tissues
Wax paper
OTHER
Glass jars
Sharp objects (e.g. needles, knives, broken glass) in a puncture-proof container and marked as "broken glass" or "sharps"
Blankets and bed sheets
Ceramic dishes
Clothing
Diapers
Empty aerosol cans. Not empty? It's hazardous waste.
Empty paint cans. Not empty? It's hazardous waste.
Food waste (Learn to compost)
Full or unopened food containers
Kitty litter
Laundry baskets and hampers
Pet food bags
Pots and pans
Styrofoam
Dry paint tins
Toys